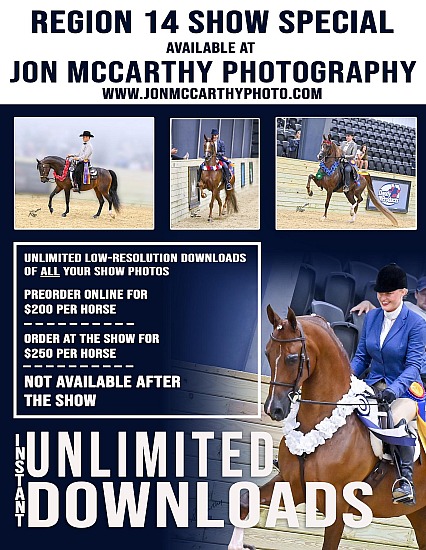 REGION 14 UNLIMITED DOWNLOADS SHOW SPECIAL
Purchase your UNLIMITED DOWNLOADS for the 2023 Region 14 Horse Show here! You must create an account for unlimited instant downloads to work. Your selected downloads will be saved to your account.
**Instant downloads are low-resolution images that are not cropped or edited and not color corrected. They are for personal and social media use only and can not be used in print or digital advertising. Download image will have a web address watermark across the bottom of the image. Edited images, publication files, and high-resolution images are available for purchase and as upgrades.
We will send a follow-up e-mail after your order is placed instructions on downloading your images.
Upgrade Webfile to Publication Image
This option is used when an image was previously ordered as a WEBFILE ONLY (without a print/high res file) and needs to be sent in for an ad with a publication. This digital file will only be sent to the chosen publication or designer with a use license for the ad only. If enlargements or banners are to be made by the designer or publication, the webfile will need to be upgraded to a full high res image file.
Upgrade webfile to High Res
Send Printed photo to publication
Select this option if you have previously ordered this photo as a print and need it sent in to a publication. The publication use/license is limited to printed ads or email blasts. If enlargements or banners are to be made by the publication or designer, a high res photo upgrade needs to be purchased (option below). If the photo was previously ordered as a webfile only, please select the '"webfile to publication" upgrade in the Image Upgrades page.

Loading more pages
Be the first to know!
Sign up to learn more about specials, giveaways, and more! (We only send out a few e-mails during the year, we promise!)
Don't want to join the mailing list, but still want to be in the hear about specials? follow us on Facebook!
Thank you for signing up!